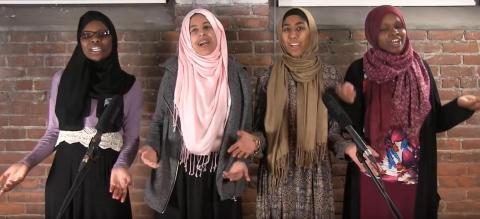 "Five months after forming their slam poetry group, Muslim Girls Making Change is competing this week in the Brave New Voices international youth poetry slam competition in Washington, D.C. 'We write poems about things that we can't keep inside of ourselves anymore, things that we care about', said Kirin Waqar, 16, of South Burlington [VT], whose parents are from Pakistan. ... 'We will never be white only pretend to be. We hide behind big mirrors and lies unsure of who we really are. African American or the other way around? Pakistani first, American?', they say. 
"The group won a tryout in Vermont to compete in the Brave New Voices festival. ... The Young Writers Project helped raise funds for the group's trip to Washington." See the full Boston Globe story here.
P4 salutes the four poetry slam team members for their courage to speak out and their choice of slam poetry as the medium through which to do so. Having made their mark in Vermont, we wish them continued success during their competition on the international stage.