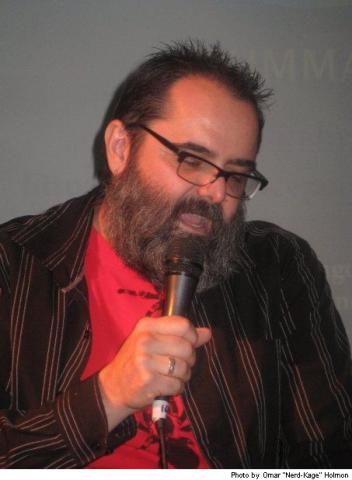 The P4 Board met to make a a crucial decision earlier this year...  Were we ready to hire an actual Executive Director? Founder and President Wess Mongo Jolley had volunteered to take on the role upon his retirement from two decades at Dartmouth College. The Board voted yes and so P4 has a brand-new Executive Director as of July 1st !
Mongo stepped down from his position as Board President to take this "boots on the ground" job and his first task will be to create an outreach, marketing, and fundraising strategy. He will also continue refining the P4 website, increasing and curating our collection, and establishing relationships with potential repository institutions.
Mongo brings to P4 his great depth of experience in technical and library related work and the admiration he has earned in the poetry community through his decade-long hosting of the IndieFeed Performance Poetry Channel. The P4 Board is very pleased to have Mongo accept this new Executive Director position.
Please take a moment to
reach out to Mongo
to welcome him in his new role with The Performance Poetry Preservation Project!