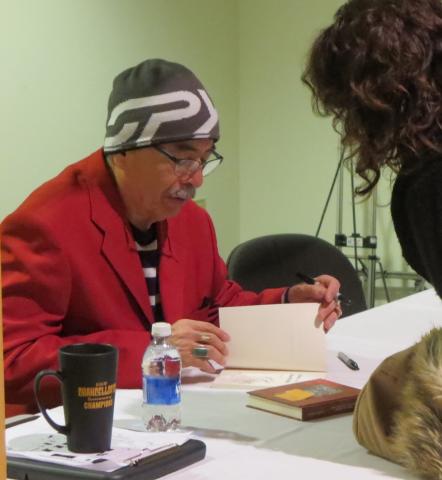 Today we'd like to highlight the work of our friend Charlie Rossiter over at Poetry Spoken Here, a wonderful online resource for the finest poetry, read and performed.  And let's start with his most recent blog entry, where he explores the work of our current Poet Laureate, Juan Felipe Herrera, through a performance poetry lens.  Charlie writes: 
Herrera deserves high marks for presentation. He's the only poet laureate I know of who skillfully uses performance poetry techniques to get his poems across. He used call-and-response to get the audience chanting "climate change" with him; at another point he sang-talked a portion of a poem, and later he even danced a little. He even had the audience speaking Spanish during another call-response.
I've always maintained that "any poetry spoken aloud is performance poetry."  I like that broad definition, because it nullifies any argument about what is and isn't performance poetry.  I don't know a lot about the work of Herrera, but it was exciting to hear how engaging his work was in performance, at least for Charlie.
Read this full blog entry at:
http://www.poetryspokenhere.com/blog/2016/3/7/ufy647xra75tbp32d5mbhvw39lh3fi
and then join us by celebrating the work of Poetry Spoken Here by exploring their work at their website.