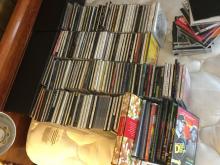 Imagine making a huge donation, that won't cost you a dime!  
As I begin to close down the IndieFeed Performance Poetry Channel, I am preparing to pass on my collection of about 200 spoken word CDs, DVDs, chapbooks, and other items to P4.  Pictured is the first set.
This will bring the P4 Collection to about 750 total media items (and many thousand individual performances).