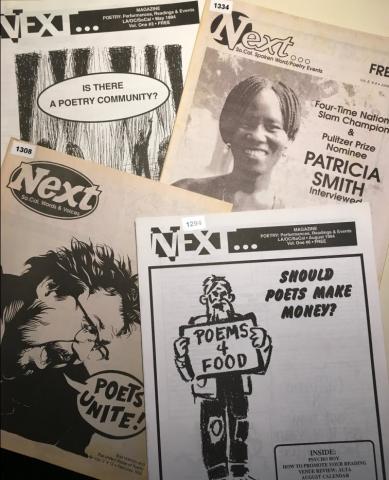 Oh, the woes of the P4 cataloger!  Sometimes I find it difficult to catalog items into our collection, because I end up spending way too much time reading the items, rather than cataloging them!
Our latest acquisition here at P4 is an amazing 40 issue collection of NEXT Magazine, which is a poetry and culture magazine from Southern California, that published between 1994 and 1998.  I'm afraid my East Coast bias is shining brightly here, in that I hadn't know very much at all about this publication before getting this donation.  But wow, what an amazing collection of writing, by some of the most recognizable names in the poetry slam pantheon!  Hard hitting reporting, fascinating features, and an excellent documentary record of poetry events held in and around So. Cal through the middle part of the 1990's.  NEXT Magazine is an important publication from the early years of the poetry slam movement, and we're thrilled to add it to our collection.
This collection comes to us courtesy of the publisher, G. Murray Thomas, who saw we had a few scattered issues of the magazine in the collection, but lacked a more complete set.  This donation from his archive covers all but a few issues, and is a hugely important addition to the P4 collection.  Also included in the donation were several copies of "News Clips and Ego Trips", which is a compilation of the best writing from NEXT magazine.
It's worth noting that many of us who have founded or been involved with P4 to date are more familiar with the East Coast poetry scene, then other parts of the country.  So we're hugely grateful to donors such as G. Murray Thomas, for helping us to make sure what we're collecting here truly represents the geographic scope of the poetry slam movement.
Do you have materials from YOUR part of the world, that you'd like to ensure are preserved in the P4 collection?  Contact me, Wess Mongo Jolley, the Executive Director (and Collection Curator!) of P4.  Let's chat!