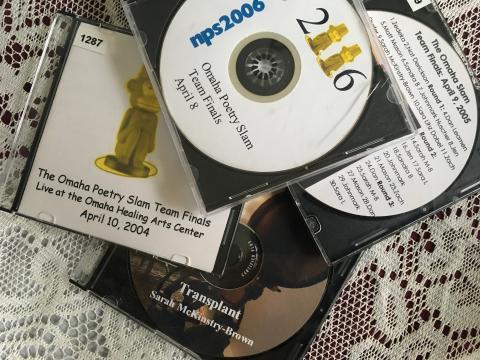 Some folks think it isn't worth sending material in to P4, unless you have a ton of stuff.  But that isn't the case!  Some of the most interesting and valuable collection contributions we receive come in small batches, from donors that just happen to have unique treasures.
Case in point:  Matt Mason and Sarah McKinstry-Brown recently sent us a set of four disk (two DVDs and two CDs) documenting the Omaha slam scene from a decade ago.  These are materials we definitely didn't have in our collection, and they give us material from a part of the country we sorely need to better represent in our collection.
Do you have a small set of material from your unique slam scene?  Would you like to have them collected, preserved, protected, and made accessible for future generations?  Then consider sending in a collection donation to P4!  One item, or hundreds, we're ready to work with you to make sure your material gets the care that it deserves.  Check out our Collection Contribution page for more information, or write to me if you have any questions.
Thanks, Matt and Sarah, for this great set of material, and being part of the work we're doing here at P4!